Get The Niche Laboratory Pro + Blog Spy SEO Tools Bundle
Niche Laboratory Pro for Windows PCs researches entire niches for you in seconds. Find long tail keywords, related topics, influencers and hidden opportunities today. Blog Spy shows you which blogs you're competing with, and what they're blogging about.
FREE BONUS GIFT: Buy the Niche Laboratory Pro + Blog Spy SEO Tools Bundle and you'll also get my exclusive 33 page Niche Site Insider Guide.
Buy the full versions of Niche Laboratory + Blog Spy using this button:

After payment you'll be able to register your copy of both applications immediately.
Click here to download a trial version of Niche Laboratory, and click here to download a trial version of Blog Spy.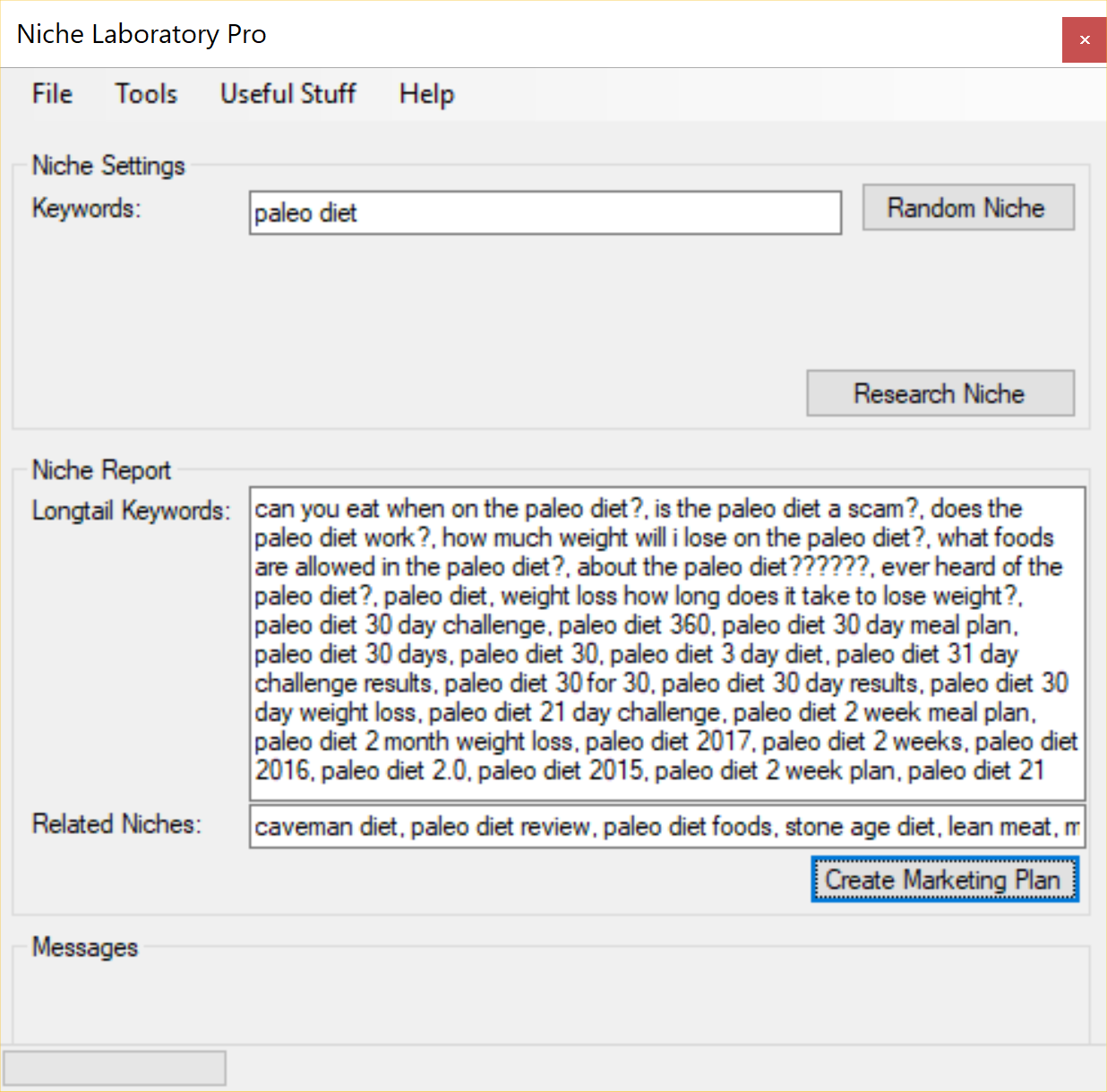 Screenshot (click for full size)
What is the Niche Laboratory Pro?
Niche Laboratory Pro is a niche research tool that allows you to find valuable opportunities for making money online. You can research entire niches in seconds. Find long tail keywords, related niches and much, much more.
System Requirements
Niche Laboratory Pro is a desktop application for Microsoft Windows. All you need is a Windows PC and an internet connection.
How Do I Get The Niche Laboratory Pro?
Buy the full version using this button:

Or download the trial version here.
When you buy the software you get FREE updates (for as long as the product is in active development). Plus there's a risk-free 60 day money back guarantee.
To get started, simply download and install the software on a PC running Microsoft Windows. Add your initial keyword phrase and click on the Research Niche button. After a minute or two the Niche Laboratory will then generate you a report with a lot of useful information about your keywords. You can use this report to give you ideas when brainstorming a new micro-niche site, or even help you with your homework assignments. There's also a Random Niche button if you're all out of ideas and need some inspiration.
What Extra Features Does Niche Laboratory Pro Have?
Niche Laboratory Pro offers the following advantages compared to the free website version of Niche Laboratory:
Supports usage via a VPN so you can find keywords from different countries. This is particularly useful if you want to find keywords to target a lucrative market like the USA.
Has many more keyword data sources so you'll find huge numbers of keywords for any niche.
Option to research adult and NSFW niches. There's huge money to be made in these niches!
Save the reports to your local PC so you can easily refer to them, even when you don't have internet access.
Reporting Options
Each Niche Laboratory Pro report contains a number of useful items:
An executive overview of that niche (only available in major niches like weight loss or famous people, places and stuff).
LSI inspired keywords and phrases associated with that topic. We now have over 15 sources of keyword data!
A word cloud which gives a visual representation of which words are most important in that topic.
A list of the top 10 ranking websites for that topic.
The page HTML title tags of the top 10 ranking websites.
Meta description and keyword tags from the top 10 ranking websites.
A Website Competition Matrix table which shows how easy it could be to rank for the keywords, based on how much SEO has been done by the current top 10 ranking sites, plus how much Social Network activity they've attracted for their content.
A list of some Amazon and AliExpress products that people might be interested in regarding this topic. Amazon and AliExpress products are a great way to monetize websites in certain niches. If you're specifically interested in adding featured products to your blog or drop shipping site then check out the Product Laboratory.
Links to a few discussion forums that may be relevant to that topic. Forums are a great place to get traffic to your niche site, and you could of course start your own forum.
Google News articles associated with the topic. News articles are a great way to make your site more current.
A list of keywords and key phrases associated with the topic that may be copied and pasted into other keyword and SEO tools.
A list of key influencers in that niche (Twitter and Instagram accounts). Check out what these people are doing in your niche. Also reach out to them to get more followers for your own site(s). These people are super important! The Niche Laboratory once featured on a popular SEO blog and its traffic quadrupled!
Questions? Comments? Suggestions? Leave feedback on our Facebook page or send us a tweet.
There's also our blog here and a free SEO/niche research/make money forum here. Check it out for some ideas I've found in my 20 years of making money from websites! I also dump some good niche ideas here from time to time.
Use the links in the top menu bar to see a list of sample reports.

Join The Conversation
3 Comments
Leave A Comment
Gary
19 February 2019
Niche Laboratory Pro is one of my most-used pieces of software. I use it every day for researching niches when writing blogs. I have endorsed it as a favourite in a six-lesson introduction to starting an ecommerce business online. Highly recommended for anyone considering a niche oriented online business.
Gary
ken woodbridge
28 March 2019
I found your software in a review by Shaikh Masood Alam, I am just building my first site and will give it a test. It seems like a great way to plan a site.