Brett from Niche Laboratory here.

In this post I'll show you how my self-managed retirement fund has returned an average of 8.5% a year since 2008.

Here's the growth chart: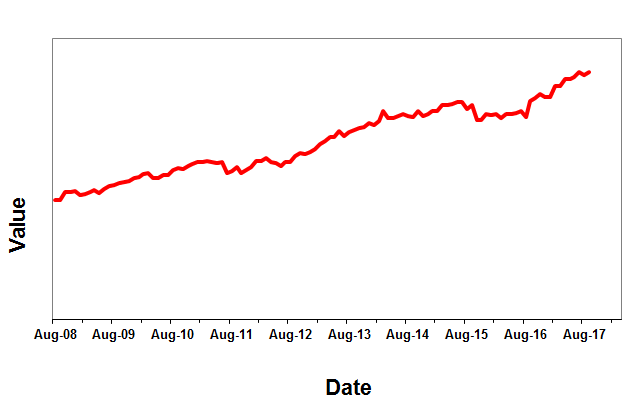 The first thing I'll mention is that I self-manage a large percentage of my pension plans. I'm resident in the UK, which means I can use a SIPP (Self-Invested Personal Pension). In this I have complete freedom in what I can invest the funds in.

I've built up a sizeable SIPP by moving small pensions from various jobs over the years into a single investment manager. This cuts paperwork and makes it easier to manage. If you move jobs a lot then a SIPP can make sense. Plus you also have the freedom to add one off payments into your pension. This can help with tax planning.

So what do I invest in?

I'll admit that I'm a total dividend whore. I absolutely love investments that pay out dividends!

Even better is if they pay out monthly dividends. That's just music to my ears. Why? Because I can reinvest my dividends on a monthly basis.

I do still invest in funds that pay out quarterly dividends though. You have to wait more for your money, but the payouts tend to be pretty huge. This gives bumper divi months.

So what is good for yield?

I am a massive fan of the so called extra income or enhanced income funds. These boost their dividend payouts by using covered calls. You can actually invest in these directly but they're for more sophisticated investors. I tend to prefer just investing in funds that do all that hard work for you.

Anyway, funds that use these include:

UBS Global Enhanced Equity Income
Schroder Income Maximiser
Premier Optimum Income
Insight Equity Income Booster
Schroder Asian Income Maximiser
RWC Enhanced Income
Fidelity Enhanced Income

They're listed in order of my preference, although this list does get periodically reordered.

At the time of writing they're yielding around 7%. Given the FTSE 100 is at record highs this yield is a lot lower than it has been in the past. Back in 2010 the Insight Equity Income Booster fund was yielding around 13.5%!

I should also add that I believe that these funds are yielding more than that - I've had some bumper quarterly payouts lately.

I also like high yielding bond funds. They tend to pay out really good dividends as well. And being bond investments they can be a little safer when things go bad.

I used to trade individual stocks and did quite well out of it. However I found it was taking too much of my time. Now I prefer just passively investing in these funds and reinvesting the dividends. Income reinvestment is the key to getting rich slowly.